---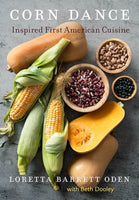 Book Details:
264 Pages, 7x10, 87 Color Illus.
$34.95 Hardcover
9780806190785
October 2023
Praise for CORN DANCE:
"Wonderful stories and recipes for food I can attest to being satisfyingly delicious!"—Wes Studi (Cherokee Nation) award-winning actor, musician, and artist
"Loretta is a true inspiration and role model. Years before anyone else, she broke new ground and opened up new paths for what is possible when she brought Indigenous foods into a restaurant setting with her Corn Dance Café. I am proud to call Loretta a friend and mentor, and am so excited to see her stories, recipes, and philosophy in the form of this beautiful cookbook! Pilamayeyelo, Loretta, for all you have done!"—Sean Sherman (Oglala Lakota) Founder, The Sioux Chef / Owamni / NATIFS / Indigenous Food Lab
"Through her knowledge, food, and activism, Loretta has blazed a trail for Indigenous women like me who seek to revive our connection to our land and our food as a way to heal in all the ways that word intends. With Corn Dance and her recipes using traditional ingredients, Loretta is inviting a larger community to know the abundance of our ancestors so that we may forge a better future for our Earth and its people."—Crystal Wahpepah (Kickapoo Tribe of Oklahoma) Chef-Owner of Wahpepah's Kitchen
"Loretta Barrett Oden is a legend. A trailblazer in the field of Indigenous cuisine, she remains an influential voice in the food sovereignty movement today. Corn Dance is a culmination of her lifetime of travels through Indian Country. The stories and recipes contained here present a balance of traditional ancestral dishes and the chef's own original creations within the context of a life lived with and for the Native community."—Nico Albert Williams (Cherokee Nation) Founder and Executive Director of Burning Cedar Sovereign Wellness and Executive Chef of Burning Cedar Sovereign Kitchen 
"Corn Dance is an irresistible invitation into Potawatomi chef Loretta Oden's kitchen. For Oden we need a bigger word than "chef." She is an artist, a renowned leader in the movement to revitalize Indigenous foods, a creator, a rememberer, and a storyteller. She tells stories with food—stories about the land, gardens, history, family, life—and helps us savor it all. I want to sit around her table with the grandmothers, shelling beans and shucking corn while she stirs up a new sauce that brings it all together, with flavors and ingredients from the four directions. We are in her debt for this bighearted book, which is sweet, savory, and wise."—Robin Wall Kimmerer (Citizen Patowatomi) author of Braiding Sweetgrass: Indigenous Wisdom, Scientific Knowledge and the Teachings of Plants
 "Corn Dance contains recipes to last a lifetime, each one mouthwatering and inspirational. Loretta's whole life is an inspiration. Her Corn Dance Café broke so many barriers for women and for Native cooks. This is much more than a cookbook: you will feel her spirit and cook with joy."—Pati Martinson, Cofounder and Codirector, Taos County Economic Development Corp
 
"Loretta's enchanting storytelling and delightful recipes bring us together to celebrate the deeply complex cultural history of our First American relatives, bridging our modern world with the foods and medicines that have healed our lands and our bodies for centuries. This book satisfies the hungry historian and is practical for any home cook. Corn Dance offers us a way to connect directly with the abundance of nature and the sacred foods of First Americans."— Caesaré Assad, Founder and Food System Consultant, Centipede Collective
About the Book:
Growing up in Shawnee, Oklahoma, among a host of grandmothers and aunties, Loretta Barrett Oden learned the lessons and lore of Potawatomi cooking, along with those of her father's family, whose ancestors arrived on the Mayflower. This rich cultural blend came to bear in the iconic restaurant she opened in Santa Fe, the Corn Dance Café, where many of the dishes in this book had their debut, setting Loretta on her path to fame as one of the most influential Native chefs in the nation, a leader in the new Indigenous food movement, and, with her Emmy Award–winning PBS series, Seasoned with Spirit: A Native Cook's Journey, a cross-cultural ambassador for First American cuisine.

Corn Dance: Inspired First American Cuisine tells the story of Loretta's journey and of the dishes she created along the way. Amply illustrated and adapted to bring the taste of Native tradition into the home kitchen, Corn Dance invites readers to join Loretta Oden on her inspiring journey into the Indigenous heritage, and the exhilarating culinary future, of North America.
 
About the Author:
Loretta Barrett Oden is a renowned Emmy Award–winning Native American chef, food historian, lecturer, and member of the Citizen Potawatomi Nation. She currently lives in Oklahoma City and is the Chef Consultant for the First Americans Museum.
Beth Dooley is a James Beard Award–winning food journalist and holds an Endowed Chair at Minnesota Institute for Sustainable Agriculture. She is the author of eight cookbooks, including (with Sean Sherman) The Sioux Chef's Indigenous Kitchen: Best American Cookbook and (with Lucia Watson) Savoring the Seasons of the Northern Heartland.