---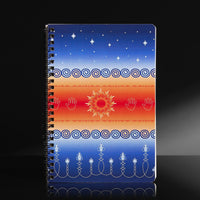 FAM™Store Exclusive Collection
8.25" length x 6" width. Spiral notebook with lined paper.

We arrived by way of the sky, emerged from the earth and the depths of the water with memories of the air that gave us our first breath. The first fire representing our life force, the guiding light within that still travels with us today.
We have created an exclusive collection of designer items sold exclusively at FAM™Store. Pagraahunye (First They Came) journal with art by Kennetha Greenwood.