---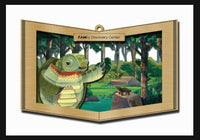 Sale
Halito from Luksi Pokni! Hello from Grandma Turtle, Choctaw Nation! 
We're thrilled to bring you our second year's commemorative holiday ornament! Your purchase this year is helping us raise funds for our FAMily Discovery Center (FDC). Please allow 7-10 business days for us to ship out your ornament. In-store pickup is available at no additional charge. 

Specs
The outer box measures at 5"X5", and the brushed brass ornament measures at h2"Xw3". It's strung on green satin ribbon. The outer box has an image of Grandma Turtle embossed in gold. The reverse side of the ornament has the FDC phrase, "We are all connected." 
To learn more about our FDC:
FAMily Discovery Center – FAM (famok.org)
This one-of-a-kind fully illustrated, multi-plane immersive world has surprises for everyone ages three to 103! Day turns into night, and together we'll experience all four seasons.