---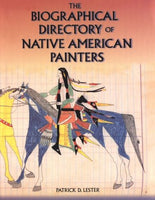 A monumental reference work, The Biographical Directory of Native American Painters lists those Native American artists who use, or have used, paint as their medium. The directory updates the previously published reference source, American Indian Painters: A Biographical Directory  (1968) by Jeanne Snodgrass-King, and has been expanded to include over three thousand names of Native American painters working from 1800 to the present.
Typical entries list the artist's tribal affiliation and tribal name, birth and death dates, residence, publications, exhibits, awards, and honors. Brief passages of human interest complement the biographical information. Excerpts from professional reviews and critical essays are also provided.
Patrick D. Lester is a physician, researcher, and writer, originally from Broken Arrow, Oklahoma. He graduated from the University of Oklahoma School of Medicine in 1965 and received his postgraduate education at the University of Texas Medical Branch in Galveston and Washington University School of Medicine in St. Louis, completing a residency in diagnostic radiology and a fellowship in pediatric radiology. In 1989, after nearly twenty years in full-time academic medicine at the University of Utah and Oral Roberts University, he entered full-time private practice in Tulsa. 
Dr. Lester began collecting Native American art in 1986, a hobby which has culminated in the compilation of The Biographical Directory of Native American Painters.