---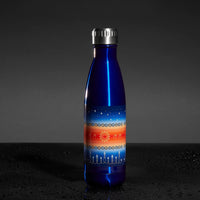 FAM™Store Exclusive Collection
16.9 oz / 500 ml

We arrived by way of the sky, emerged from the earth and the depths of the water with memories of the air that gave us our first breath. The first fire representing our life force, the guiding light within that still travels with us today.
We have created an exclusive collection of designer items sold exclusively at FAM™Store. This water bottle is based on the artwork Pagraahunye (First They Came) by Kennetha Greenwood (Otoe-Missouria).
We would suggest only cold or room temp beverages. If you put hot liquids, the bottle will start to feel the same temp as the liquid you poured inside.