---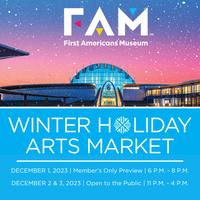 Each booth space includes one table, two chairs, lunch Saturday and Sunday, one extra ticket for a guest to the member's only event Friday night and help with load in and load out. With your artist badge you will also receive 10% off in our Thirty-Nine Restaurant.
Online
reservations are suggested.
Please bring your own panels and tablecloths and any other items you need for display. Free Wifi is available. We are in Oklahoma County for your business to collect its own taxes on sales. Sales are the responsibility of the artist. If you need accommodations, please
click here
! Throughout the weekend, artists and one guest will receive
OKLA HOMMA
and
WINIKO: Life of an Object
gallery access with their artist badge. Galleries and FAM closes at 5 p.m. Please inform the need for electricity access when confirming.
$225: Hall of the People Booth Spaces - 10X10

$125: Hallway Booth Spaces (Hallway between Hall of the People to FAMstore) – 5X10

$125: Second Level outside the classrooms or FAM Theater (no electricity access) – 10X10

Shared Booth Space: $50 additional fee for an additional artist. Only two artists for a shared space, per booth maximum. Booth spaces are for invited artists only and is limited to the Hall of the People booth spaces only. Shared Booth spaces include two meals per day & one additional preview night ticket.